Geoffrey Counsell fireworks case 'motivated by desire to blame'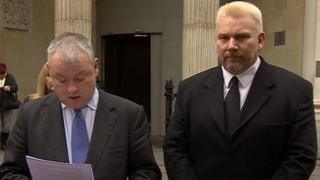 A fireworks contractor said the prosecution case brought against him was "motivated by a desire to find someone to blame".
Geoffrey Counsell, 51, had denied failing to ensure public safety for the Taunton Rugby Club display.
A judge at Bristol Crown Court directed the jury to find him not guilty.
Seven people died in the motorway pile-up involving more than 30 cars, when they were engulfed in a thick fog on the M5 near Taunton on 4 November 2011.
'No objection'
In a statement read by his solicitor Gavin Reese outside the court, Mr Counsell, of Ashill, Somerset, began by expressing his sympathy "to all those who were affected by the terrible crash".
He went on to speak of the "appalling experience" he has been through over the past two years.
"Yet, I recognise my misfortune is as nothing compared with that of those bereaved and injured as a result of that accident," he said.
Mr Counsell was originally charged with seven counts of manslaughter but they were dropped earlier this year before he was tried on the health and safety charge.
In his statement, he talked of the "quiet dignity of the families of those affected by the crash as they listened with me to the evidence as it unfolded".
Speaking of his experience before the night of the crash, Mr Counsell said: "Before a final decision to go ahead with the display was taken, the Highways Agency, the Taunton Deane Borough Council and the Avon and Somerset Constabulary were consulted.
"All were informed of the fact and nature of the display. No objection of any kind was raised.
"The display was carried out without incident. It was a very foggy night and the fireworks produced some smoke, which would have mingled with the fog.
"However, I saw nothing to cause me to believe that any firework smoke would cause a hazard and I do not believe that it did so."
He said he believed the decision to prosecute him was "motivated by a desire to find someone to blame for this terrible accident, simply for the sake of doing so".
The judge, Mr Justice Simon, said the prosecution's case was based on "hindsight" and there was not sufficient evidence to show Mr Counsell ought to have foreseen that smoke could have drifted and mixed with fog to create thick smog.