Bristol teenager Jake Milton killed after accused 'panicked'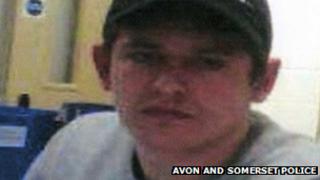 A teenager accused of murdering a 17-year-old in a pre-arranged fight has told a court he repeatedly stabbed him after "panicking".
Jake Milton died of stab wounds in Cossington Road, Knowle West, Bristol, on 14 July.
Lewis Talbot, 18, giving evidence for the first time at Bristol Crown Court, said he picked up a knife and lashed out after he had been punched.
Nathan Warburton, 20, of Leinster Avenue, is also accused of murder.
The pair both deny the charge.
The court was told the fight had been arranged via BlackBerry messenger.
'I just panicked'
Mr Talbot, of Kenmare Road, Knowle, told the jury he was at his brother's house when Mr Milton and a group of his friends turned up in a car and got out with "weapons".
"I just panicked and thought they are coming to the house," he said.
"It was intimidating because there was a car full of them.
"I ran downstairs into the living room and I was looking for something and I saw the knife on the side.
"I was panicking at the time because I knew they'd got weapons and I knew they were going to come to the house," he said.
Mr Talbot said Mr Milton struck a blow to his head which knocked him back on to the floor.
"I just remember it was loud... shouting... there wasn't a lot I could do.
"I had been hit over the head so I wasn't feeling too good. It was frightening, I was dazed and I didn't know what was going on."
'Swinging the knife'
Mr Talbot told the court Mr Milton continued to punch him in the face and body while he was on the floor.
"I saw a knife to the right side of us and I grabbed it. I just reached out for it and felt it in my hand. He was on top of me. "
"If I was able to notice it, he would have saw it."
Asked by his barrister Michael Fitton QC what was going through his mind, Mr Talbot replied: "I just panicked and I thought I was just going to get stabbed.
"I just lashed out with it and swung my arm out. I couldn't really move, so I was just swinging the knife.
"I didn't realise what had actually happened until I got up."
Asked why he lashed out, he replied: "Panic. I thought he was going to stab me and there wasn't a lot else I could do. It all happened fast."
Talbot told the jury he was able to get up and ran off.
He was arrested the following day when he handed himself in to police.
A post-mortem examination found that Mr Milton suffered five stab wounds, four to the left side of his body and one to his left forearm.
One wound, which was 0.8in (2cm) wide, passed through his ribs, into his lung and sliced his main artery, causing his death.
The trial continues.