Bristol PCs rescue trapped man from cold harbour water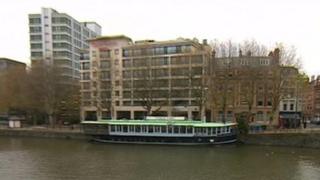 Four police officers have been praised for their bravery after they helped rescue a man from Bristol harbour.
The officers were about to finish their shifts, early on Saturday, when they heard cries for help.
The heavily-built man had become stuck near Bristol Bridge and was trapped between the harbour wall and a boat, some 10ft (3m) lower than the officers.
Two officers threw a lifebelt to him before entering the cold water to help the man stay afloat.
'Strength sapped'
All three were taken to the Bristol Royal Infirmary (BRI) for treatment for hypothermia.
Two other officers used ropes to secure the victim before the fire service rescue boat arrived.
Insp David Hunt said if it was not for the "rapid and brave response" of the officers there may have been a fatality.
"The efforts sapped the strength and energy of all officers who were committed to helping a person in distress.
"Matt McQuaid and Luke Taylor made the very brave decision to enter the water in very dangerous circumstances.
"However, because of the determination and teamwork of all four officers, this was a success in saving the trapped man's life," he added.