Bristol Cathedral to be used for food bank donations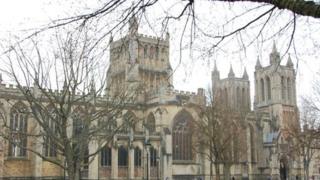 Bristol Cathedral is to be used as a drop off point for food donations for the first time over the Christmas period.
Donations will be distributed though a network of food banks across the city.
It is part of the Christmas starts with Christ campaign which the cathedral is supporting.
The Bishop of Bristol, the Right Reverend Mike Hill, said he believed there were up to 20 food banks in and around the city.
He said thousands of people passed the cathedral every day and he hoped many will stop and donate to the cause.
"The Archbishop of Canterbury has challenged everyone to give 10% of their food bill to a local food bank.
"Hundreds will struggle to provide the Christmas dinner we've all come to cherish for their families," he added.