Bristol teenager Jake Milton killed in 'pre-arranged fight'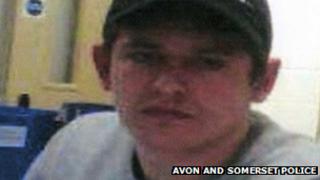 A Bristol teenager was killed after being stabbed five times during a brief pre-arranged fight, a court has heard.
Jake Milton, 17, died in Cossington Road, Knowle West, after months of exchanging "threatening" and "hostile" messages, Bristol Crown Court was told.
Two teenagers from the city - Lewis Talbot, 18, and Nathan Warburton, 19, deny a charge of murder.
The jury was told Jake and Mr Talbot had friends in common but the pair did not get on and had "history".
'Cut him'
On the day of his death, Jake, from Bedminster, had sent messages to Mr Talbot asking him to "come and play", the court heard.
The pair met, along with friends, in Cossington Road at 23:15 BST on 14 June.
Thirty minutes before that meeting, Adam Vaitilingam QC told the jury a message had been sent from Mr Talbot to Jake saying he would "cut him open".
Mr Vaitilingam told the jury Jake had received a number of stab wounds to his upper body, in particular a knife wound that had penetrated through the left side of his chest and cut through his vital organs.
Mr Talbot and Mr Warburton were arrested hours after the death.
'Armed for fight'
The court heard how Mr Talbot said he used the knife out of "self-defence" when Jake attacked him with a wooden bat.
But Mr Vaitilingam told the jury this defence was not accepted by the prosecution because he left the house "armed with a knife, ready to use it".
Mr Warburton is also guilty of murder because he "came out for the fight alongside Lewis Talbot who he knew was armed for a fight", he added.
"They were engaged in a joint enterprise, an unlawful attack on Jake, which killed him."
The trial continues.