Bristol Rovers supermarket plan: Council 'fury' over opposition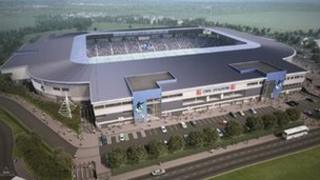 Campaigners against plans for a supermarket at the Bristol Rovers stadium have angered council bosses.
Trashorfield (Traders & Residents Against Sainsburys Horfield) is conducting a legal challenge against the development.
But John Calway, South Gloucestershire council leader, said he was "furious" as the group's "antics" were damaging the authority's work with developers.
Trashorfield said it is against a "goliath supermarket" in the area.
Bristol Rovers wants to sell its ground to Sainsbury's, to fund a move to a 21,700-seat stadium in Frenchay.
'Not needed'
Bristol City Council planners have approved the scheme, but a High Court judge has ruled Trashorfield's request for a judicial review into the plans can go ahead.
Trashorfield spokeswoman Diana Scrafton said there were already 14 supermarkets within a three-mile radius and another was "not needed".
Plans for Rovers' new stadium on land beside the University of the West of England (UWE), include a club shop, bar, gym, offices, and a 1,000 space car park.
Mr Calway said the council has been extremely supportive of the planned "flagship" stadium, which he said has the potential to be a "massive boost" for South Gloucestershire and its economy.
"My message to Trashorfield is to stop damaging our efforts here in South Gloucestershire to work with UWE and Rovers to secure this unprecedented investment locally and all the economic, cultural and sporting benefits to local people that will come with it," he said.
Trashorfield have yet to comment on Mr Calway's statements.