Bristol Parkway: Hundreds of drivers fined at overspill car park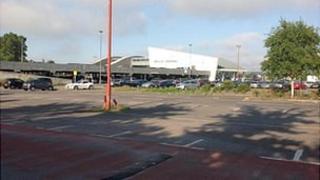 More than 500 drivers have been fined since September for parking outside marked spaces at a council car park near Bristol Parkway station.
Motorists have been complaining of a shortage of spaces for commuters while work is carried out to build a multi-storey car park at the railway station.
Some said, despite arriving early, they had been unable to a space.
South Gloucestershire Council said while it recognised the frustration "illegal parking cannot be allowed".
Many motorists have been using the council-owned Parkway North car park - a five-minute walk from the station - which is being used as an overspill car park.
Those who do not park within the marked spaces are being given £25 tickets.
'Very little sympathy'
Dan Payne from First Great Western (FGW) said the railway operator was spending millions of pounds to improve the situation.
He said the work would be finished by March and would create an extra 700 spaces - almost doubling the capacity.
"[Illegal parking] has a big impact on people trying to get in and out of the car park," said Mr Payne.
"If you are arriving later then of course there is a problem, but what car park in Bristol is empty at that time of the day?
"The only complaints we've received are from people that have got tickets from parking illegally and I have very, very little sympathy for that," he added.
'Car park jammed'
Rail passenger Martin Farmer said he arrived an hour before his train was due on Tuesday.
"The [north] car park was jammed and I noticed other cars were parked on the verge and felt as time was running out the only option I had was to park there.
"I arrived back from London to find myself and a number of other cars had been ticketed.
"Yesterday [Wednesday] I came up here and noticed between 30 and 40 cars also parked illegally and ticketed.
"So South Gloucestershire Council, who are running this car park, are probably picking up about £1,000 a day," Mr Farmer said.
'Appeals considered'
A council spokesman said it urged people to consider alternative means to get to the station while work continued.
He said while it appreciated the frustration, illegal parking "cannot be allowed" and penalty charge notices (PCN) will be given to offenders.
"Motorists who feel they have unfairly received a PCN are entitled to appeal against the decision.
"We will consider each case on its own merits," he added.