Bristol taxi fare 'rip-off' claims 'should be investigated'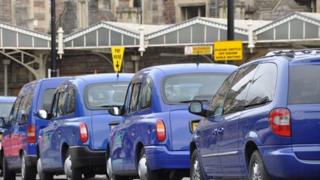 Claims taxi drivers in Bristol are "ripping off" passengers need to be investigated, a councillor has said.
Councillor Wayne Harvey said it was "absolutely outrageous" those living on the fringes of the city were "regularly being fleeced" by some drivers.
The National Taxi Association admitted it was a "serious problem" but said a minority of drivers were involved.
Bristol City Council said it followed up every complaint made and urged passengers to note the driver's number.
'Circuitous route'
Mr Harvey, who is the Conservative member for Avonmouth, said he had received "numerous complaints" of "irregular activities" including people being charged per head, taxi meters not running and drivers "deliberately" not taking the most direct route to destinations.
"For example, in one reported instance, instead of driving from the city centre to Shirehampton Green - via the A4 Portway - the blue cab driver chose to travel across Durdham Downs.
"This circuitous route was then used to justify charging passengers a whopping £35 fare."
Morad Tighilt, from the Bristol branch of the National Taxi Association, said the majority of drivers were not overcharging customers.
But he acknowledged there were some "rogue traders" in the business and said the association had alerted the licensing authorities a year ago.
"It is a serious problem, people are being ripped off and we know this, but it is a minority of drivers," he added.
'They should know'
The city council is responsible for setting fares for Hackney carriage journeys within the city boundary - which must be charged by a taxi meter.
It does not regulate private hire vehicles or Hackney carriage fares outside the city and these fares would normally be agreed with the driver before the journey.
Mr Harvey said drivers needed to have a "better understanding" of the boundaries.
"My constituents are regularly told Avonmouth and Shirehampton are outside of the city boundary.
"They are professional drivers so should know their boundaries. I find it hard [to believe] they're put out on the road and don't know the routes," he added.