Permanent Concorde home at Filton airfield 'ready in three years'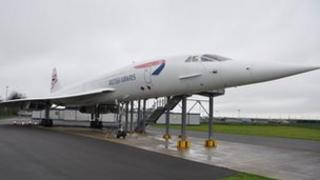 A permanent home for Concorde at Filton Airfield could be up and running within three years, a group behind the project has said.
The news comes on the 10th anniversary of Concorde's final flight to the Bristol airfield.
The Bristol Aero Collection Trust is in the process of raising £13m to build an aviation museum on the site which will house the aircraft.
It said the scheme relied on a £4.4m Heritage Lottery grant being approved.
Spokesman Oliver Dearden said the trust has passed the first round of its Heritage Lottery funding bid, and was now hard at work on the final application which will be submitted next year.
He said: "If we get that, then we are well on the way.
"It will be tremendous to find a fitting home for Concorde and with the sufficient space it will also provide us with an excellent museum to celebrate both past and present.
"We will have all the artefacts on display to tell the story of the 100 years of aviation."
Late 2016
Subject to the lottery funding approval and a successful planning application, the trust hopes to have the museum built by late 2016.
Concorde 216 has been parked uncovered at the airfield since its final supersonic flight in 2003.
Ben Lord of the Save Concorde Group, whose own proposal to house Concorde was rejected by British Airways earlier in the year, said: "They've got a long way to go still but we support them, and anything that gets Concorde placed undercover is in everyone's best interests."
Concorde was largely designed and built at Filton, with the first British flight taking off in 1969 and the final supersonic flight of any Concorde in the world landing at the airfield in 2003.