South Gloucestershire M4 hard-shoulder-driving to begin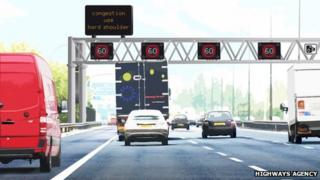 Motorists using the M4 in South Gloucestershire will be offered the hard shoulder to drive on at peak times, from Tuesday.
The extra lane option is part of an £88.6m project to upgrade the M4/M5 interchange at Almondsbury.
It will initially come into effect between junctions 19 and 20.
Testing of a similar change, between junctions 15 and 17 of the M5 where it is crossed by the M4, begins next month.
Adrian Hull, of the Highways Agency, said: "We urge road users to follow the overhead signs, and remind them that the hard shoulder can only be legally used by motorists as a running lane when a speed limit is displayed above it - otherwise it is for emergency purposes only."
The variable speed limits and messages on the new overhead gantries will be controlled by traffic officers at the Highways Agency centre in Avonmouth.
The project, which covers seven miles of motorway, began in January 2012 and is expected to be finished by spring of next year.