Protest held against parking zone in St Pauls, Bristol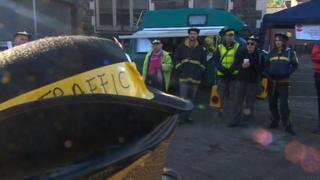 Campaigners have held a protest against the planned introduction of a residents' parking zone in Bristol.
Members of the Our Streets Our Scheme group are against a plan to charge people to park outside their own houses in St Pauls.
Bristol's elected mayor George Ferguson has begun rolling out the zones across the city to try to stop commuters parking in residential streets.
Locals say a "one size fits all" scheme will not work in all areas.
Ben Wood, from Our Streets Our Scheme, said: "We want to make it our scheme rather than a Bristol City Council scheme which we feel is being imposed on us without regard for what we need or want.
"For example I want [fewer] double yellow lines in places. I think they are killing off businesses [because people cannot park nearby].
"We don't have a problem with the scheme itself, it's about how its being implemented with no regard to the local people."
'Absolute madness'
About 100 people, some of them dressed as traffic wardens, attended the demonstration at the Malcolm X community centre earlier.
Mr Wood added: "A free scheme would be the ideal situation. We definitely need a scheme because parking round here is absolute madness.
"There is a lot of money being made by Bristol City Council through parking fines alone.
"The money is there to put something in place without having to charge people."
A spokesperson for Bristol City Council said it was talking to local people in the hope of developing the "right sort of scheme".
It added that would be followed by a formal consultation before any of the proposals are put in place.