Bristol police offer tips to cyclists and drivers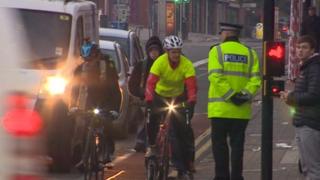 Cyclists and motorists in Bristol are being stopped by police as part of a campaign to improve safety and "relations between the two groups".
Police said officers would be out on foot to give tips to both groups whom they said "don't often see eye to eye".
In one day they caught 65 cars in the cycle box at traffic lights, eight cyclists on the pavement and 25 bikes jumping traffic lights.
Police said their aim was to help people "to use the road properly".
Cycling safety has been in the headlines recently following the deaths of six cyclists on London's roads in the past two weeks.
'Lack of understanding'
Six cyclists have been killed in the Avon and Somerset area in the past year.
Sgt Sean Underwood, from Avon and Somerset Police, said: "It's been well documented that there are tensions between the two groups [cyclists and motorists].
"And it may be just be down to genuine lack of understanding about the law in this area. If we spot someone committing an offence then we'll give out a warning and offer advice.
"Depending on the seriousness of the offence we may also enforce the law which can result in a ticket, fine or three points on your licence.
"Most of the motorists we spoke to didn't know about the cycle box offence which just goes to show there is a lack of awareness about proper use of the road."
Police said cyclists' main offences were failing to stop at red traffic lights, cycling without lights at night and failing to stop when asked to by the police.
They said the main offences attributable to motorists were failing to stop at red lights, driving in bus lanes and driving into the cycle box at traffic lights.