Ashton Gate stadium revamp plans recommended for approval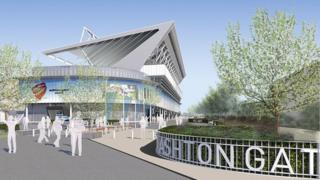 Plans for Bristol City FC's £40m redevelopment of Ashton Gate stadium have been recommended for approval.
Bristol Sport Ltd wants to replace two of the ground's stands to increase its capacity.
It plans to redevelop Ashton Gate as an alternative to building a new ground at nearby Ashton Vale.
Bristol City Council planning officials have recommended the proposal for approval. It will go before a council vote on 27 November.
If approved, the revamp will increase capacity from 21,500 to 27,000 and could be finished in time for the 2016-17 season.
The Williams and Wedlock stands will be replaced and there will be a new conference, exhibition and entertainment centre for the city.
"It is essential that the basis on which any planning is granted must be implementable and financially viable," a spokesman for Bristol Sport Ltd said.
"The redevelopment of Ashton Gate would be a major catalyst for south Bristol in generating a significant number of full and part-time jobs during construction and on completion, thanks to the significant investment of private funds."
The proposal, following a public consultation exercise in July, also includes enhanced disabled facilities, improved public transport links and the addition of rail seating.
The newly-redeveloped stadium would be used by both Bristol City FC and Bristol Rugby Club, both run by Bristol Sport Ltd.
Although the club has planning permission for a move to Ashton Vale, it has been held up by a row over a bid for town green status for the area.
Planners also recommended the approval of the South Bristol link road which councillors will vote on in a meeting on the same day as the Ashton Gate vote.
A Bristol Sport Ltd spokesman said: "At the conclusion of this planning process the Board of Bristol City Football Club will be in a position to make a considered choice between stadium construction at either Ashton Gate or Ashton Vale."