Bristol Downs stone footbridge plans approved in principle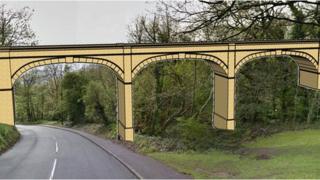 Plans for a classical stone footbridge over Bridge Valley Road in Bristol have moved a step closer.
The structure would complete a missing link in a circular route around the Downs after it was identified that a safer crossing was needed.
The idea has been approved in principle by Bristol City Council's Downs Committee, which said it also wanted a dedicated cycle lane as part of it.
Those behind the idea say it would last for 300 years and be low maintenance.
The new bridge would complete a circular route linking Clifton Suspension Bridge, the Zoo, the Downs and the Avon Gorge.
Richard Bland, from the Friends of the Downs and Gorge, said it would be an iconic landmark for Bristol.
"It's 150 years since we opened the suspension bridge so why not build another one?" he said.
Campaigners say funding for the £1.8m scheme would be sought through the National Lottery, educational and engineering grants, and sponsorship.
The crossing is also part of the wider Avon Gorge Management Plan proposals.
A formal planning application for the bridge has yet to be submitted to the city council.