Bristol's budget: Mayor's budget cuts 'fail vulnerable'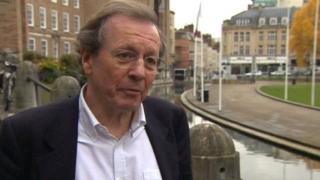 A plan to slash £90m from Bristol City Council's budget while raising council tax has been criticised as "divisive" and "failing the vulnerable".
Independent mayor George Ferguson laid out his plans for the cuts over the next three years on Thursday.
The Liberal Democrats said the plan made the council workforce feel "very insecure" while Labour believes the "misery" should be spread fairer.
But Conservative leaders said the budget was "realistic".
'Disproportionate protection'
A six-week consultation has begun for Bristolians to have their say on the proposals - which will need to be signed off by the cabinet in January ahead of full council in February.
Mr Ferguson's proposals include the closure of public toilets in the city, slashing leisure facility subsidies and cutting funding to children's centres by £1.5m.
He also proposes to increase council tax by 2% each year for the next three years.
Labour deputy leader, Ron Stone, said he felt the mayor had "failed his statement" to protect services for the most vulnerable.
"There is a disproportionate protection in my view of certain sections of the budget, such as the arts budget, in relation to the effects on the most vulnerable people in the city - people with disabilities, elderly people and young children," Mr Stone said.
"I believe he's failed that particular mission he set himself... and there are ways and means that this budget could be mitigated quite simply by a fairer distribution of the misery."
Christian Martin, Liberal Democrat deputy leader, called the budget "divisive".
'Very insecure'
"George has identified he needs to do a three-year budget to create stability and security for the workforce.
"By announcing last week via a press release that there are going to be 800 to 1,000 [job] cuts he's made people feel very insecure which is the complete opposite of his intention.
"Jobs have to go but in the budget we've been presented but there's no detail on where those cuts are going to fall," he added.
A spokesman for the city council denied that staff had been told about the job losses by press release and said the news had been shared with staff and unions earlier in the day.
But Peter Abraham, Conservative leader, said the budget was a "realistic one" and the mayor "rightly or wrongly" had little alternative to come forward with his proposals.
"The key now is efficiency what we can do with the money left with as well as possible?
"We need to cut waste and look for better value for money," he added.
'Bold and brave'
Mr Ferguson said the council "had be realistic" and there was "no escaping the cuts".
"The government's chosen to impose most of the cuts on local government we take by far the biggest hit and much more than central government.
"We've got to be bold and brave about what we do and we've got promote this city, and we've got to create jobs.
"While we are taking up to 1,000 jobs out of local government what we will be doing is putting many many more jobs into the city," he added.
Full details of the planned budget cuts can be found the Bristol City Council website.