Medway Queen returns to Kent after restoration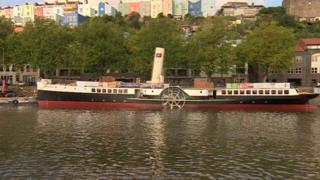 A "little ship" that helped rescue thousands of soldiers during the Dunkirk evacuations of WW2 has arrived in Gillingham after restoration.
The Medway Queen paddle steamer, built in 1924, was designed to take holidaymakers on trips around Kent.
The ship was commissioned by the Navy in 1939 and became known as the "Heroine of Dunkirk" after helping to evacuate British troops.
It was then left to rot before being rebuilt in Bristol.
Restoration work on its hull began at the Albion Dockyard, Bristol in 2011, with money from a £1.9m Heritage Lottery Grant.
It was constructed in the traditional way - with rivets - the first ship of its size to be built this way in the UK in more than 50 years.
'Brilliant run'
A tug then towed the paddle steamer around the coast before arriving in Kent.
The vessel will go on public display, the Medway Queen Preservation Society said.
The Medway Queen, one of the most famous "little ships" of WW2, took more than 7,000 trapped men from beaches in 1940.
It set off from Avonmouth on Thursday being towed by the tug Christine.
"It's had a brilliant run around the coast, and it's surprised us all that it's arrived back so quickly," Mr Goodhew said.
Work will continue on the restoration after the Medway Queen and is expected to last two or three years.
The visitor centre will open with tours of parts of the ship taking place in the next few weeks, Mr Goodhew said.
"There's a lot still to be done. It's a big job."