Severn bridges toll to increase to £6.40 in January 2014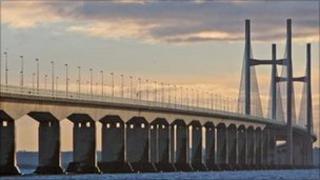 Tolls on the Severn bridges are set to rise to £6.40 in the new year.
Cars and caravans crossing from England to Wales will be charged 20p more than the current charge.
Small goods vehicles and small buses will have to pay £12.80 - a rise of 40p - while heavy goods vehicles and buses will pay £19.20, an increase of 60p.
A Severn River Crossing (SRC) plc spokesman confirmed the new tolls would come into force on 1 January 2014, with rises in line with RPI.
He said: "SRC amends the tolls at the start of each new year in strict compliance with the Severn Bridges Act 1992.
"The Act sets down the precise method and base prices for setting toll levels and the adjustment to next year's toll levels, like this year, is in accordance with RPI (the retail price index).
"The new toll levels are confirmed each year by a Parliamentary Order made in December which authorises SRC to adjust tolls to the revised levels."
The bridges are currently operated by a private company, but are due to revert to public ownership in 2018.
Motorists only pay to enter Wales. Driving into England is free.