Bristol Rovers supermarket plan: Judicial review approved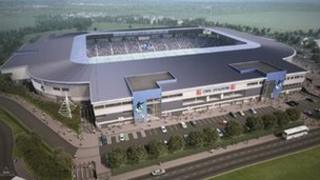 A High Court judge has ruled a judicial review into plans for a supermarket at the Bristol Rovers football ground can go ahead.
The club says it needs to sell its ground to Sainsbury's to fund a move to a 21,700-seat stadium in Frenchay.
But Trashorfield Ltd (Traders and Residents Against Sainsbury's Horfield) said it was against a "goliath supermarket" in a residential area.
It wants a review to reveal why the city council approved the store.
Bristol Rovers chairman Nick Higgs has said a judicial review will cost the club "an awful lot of money" in delays.
'Important for democracy'
He said it is "a huge irritant" and is "very disappointed" that the review has been approved.
"Ultimately this [the supermarket] will get built, it's just a delay," he added.
Trashorfield spokeswoman Diana Scrafton said there were already 14 supermarkets within a three-mile radius and another was "not needed".
She said: "The judicial review is an important part of our democratic system that can help to ensure that important decisions are taken properly and we are grateful to have this decision scrutinised."
The Bristol North West MP, Charlotte Leslie, said she is disappointed that the review has been approved, but said she hopes that "common sense and the good of the city will prevail".
In January, councillors gave permission for the club's current home to be redeveloped into the supermarket.
Bristol City Council was later served with a formal notice of intent for judicial review of that decision.