Bristol's mayor warns of compulsory job losses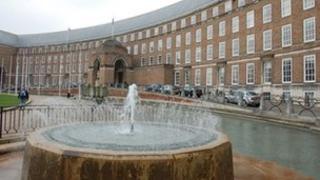 Bristol's elected mayor says he cannot rule out compulsory redundancies as unions are consulted over plans for up 800 job losses over three years.
George Ferguson will reveal his proposals to balance the council's books on 18 November ahead of a final budget being set in February.
Staff were previously told the cuts were necessary to bridge a funding gap of £90m over the same time period.
The cuts could affect up to 1,000 employees including part timers.
Steve Mills, from the union Unison, said Mr Ferguson should be standing up to central government over funding and saying "enough is enough".
'Dramatic impact'
He said the depths of the cuts meant the council would soon only be able to fund its statutory services.
"Some of the voluntary organisations currently supported by the council might end up not just being cut back but losing their funding altogether," he said.
"We understand there have to be some cuts and restructuring but we just can't take any more.
"It wasn't that long ago we were talking of £80m of cuts now its £90m - that's slashing some 25% of the council's budget.
"The cuts are going to have a dramatic impact on services and a negative effect on the economy.
"People will look back on this decade as the move from austerity to one of not caring."
'Trips abroad'
The city's Labour group said in a statement that the mayor had promised he would get a better deal for Bristol from the Coalition Government when he was elected last year.
"Now Bristol seems to be in exactly the same position as other local authorities - perhaps even worse off," the statement said.
"Instead of trips abroad, the mayor needs to be banging on the door of Number 10, alongside council leaders of every political persuasion, saying that local government cannot cope with this level of further cuts."
But Mr Ferguson said the authority was facing some "incredibly difficult" financial decisions as a result of cuts.
"This is not a pleasant process, but one which will hopefully leave us in a more realistic state to serve the city and its citizens, which is our primary purpose," he said.
"I will do all I can to limit the impact on people's lives, both in terms of the public and our staff.
"Compulsory redundancies will be the last resort, but I fear they will be necessary when there is simply no other option."
The council said it would offer some employees a voluntary severance package or the opportunity to reduce their hours.
Last month some 8,000 people who work for Bristol City Council were told to brace themselves for deeper cuts than expected.