'Serious flood risk' for Bristol city centre, Environment Agency says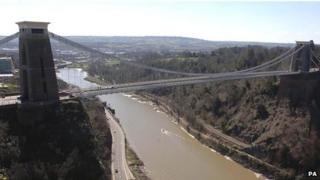 Part of central Bristol is at risk of serious flooding if the level of the River Avon rises, the Environment Agency (EA) has said.
It is feared that during a storm, waters could breach the harbour walls putting some 1,000 properties at risk.
Melvin Wood, from the EA, said there was a possibility of a "devastating" flood sometime in the future.
A public meeting at the Colston Hall will also hear from Wessex Water and the city's elected mayor.
It takes place at 19:00 GMT and will outline the risks and what is being done to mitigate them.
'Foul water'
During freak thunderstorms on 10 July 1968, many low-lying parts of the city flooded.
Parts of Ashton, Bedminster, Stapleton, Eastville and St George were among numerous locations badly affected.
Mr Wood believes this could happen again - particularly as sea-levels continue to rise - and this would cause floodwater to pour into homes and businesses.
But he said there were systems in place to reduce the risks.
"If we lower the harbour [water] before the tide comes... and overtops the defences, it comes into the floating harbour and uses that like a basin before it backs up the system in the city centre.
"It would take a huge surge tide coming up the [River} Avon overwhelming the defences that are there at the moment," he added.
'Weather unpredictable'
Steve Arthur, from Wessex Water, said people should not be over concerned but accepted the risk of serious flooding could be a problem in the future.
"The weather is unpredictable, the infrastructure is there and has been in place for a long time.
"We have good models that predict how the systems react to heavy to serious rainfall, the right people are involved and everyone is taking it seriously.
"These things are rare but when they happen the people and equipment are in place to deal with them as well as we can.
Mayor George Ferguson previously said the city was "deeply-threatened" by flooding in the long term and backed plans for a £50m Avon flood barrier.
He believes a rising sea level threatens the city and a barrier is necessary for protection.
The central areas flood risk assessment, a study which has taken two-and-a-half years to complete, has identified some 1,000 properties in the Harbourside area at risk of flooding.