Bristol Old Vic reveals further £12m revamp plans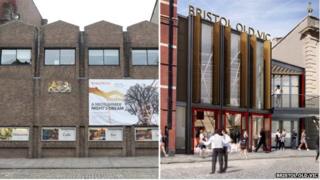 A theatre that was built almost 250 years ago is to have a further £12m spent on modernising it.
Refurbishment plans for Bristol Old Vic's foyer, studio theatre, 18th Century Coopers' Hall and entrance cafe and bars, have been submitted.
Last year, a major revamp was completed of the playhouse's main auditorium.
Architect Steve Tompkins said the foyer would be a "convivial, urbane room in its own right" and has to help make the theatre "a social asset".
For the first time in the Georgian theatre's history, the front wall, dating from the 1760s, will be exposed to the public foyer and be visible from the street.
'Public space'
The open foyer will have a cafe atmosphere and be fully accessible to wheelchairs as well as having more toilet facilities and more accessible and longer bars.
The studio theatre will be made fully accessible and Coopers' Hall will be returned to its original purpose as a function hall for the city.
Artistic Director Tom Morris, said: "We want to create a new public space for everyone in Bristol - whether or not you're seeing a show.
"You'll be able to relax with a book, meet for a business lunch, or bring the kids.
"There will be tables and sofas over three floors of nooks and open spaces - we hope everyone can find their own space here."
A multi-million pound fund-raising campaign will be launched in the new year, with the money raised added to £5m of funding already earmarked from the Arts Council.