Fire damaged church in Bristol reopens to mark Polish Independence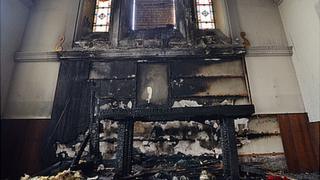 A Polish church in Bristol, badly damaged by fire has been reopened to celebrate Polish Independence Day.
The Church of Our Lady of Ostrabrama on Cheltenham Road was damaged last week when a fire spread to the building's roof.
Volunteers have been working hard since then to repair damaged areas.
Jacek Sikora, from the parish committee, said: "We've tried to clean as much as possible so people will have a normal service on Sunday."
The church in Stokes Croft has a congregation of 1,200.
"There's a lot of smoke damage through the church and there's damage to the roof," said Mr Sikora.
"And obviously we've lost one of our precious stained glass windows - which we think is original to the church."
'Scrabbling through debris'
Church relics were also destroyed in the fire.
"We had a beautiful picture of Our Lady of Ostrabrama and people had dedicated their war medals and other precious things they had - and that has all gone," said Grazynka Kowalewska, a parishioner.
"So we have been scrabbling through all the debris trying to pick out parts of the picture and some of the medals that were burnt."
Polish Independence Day is celebrated on 11 November, to mark the day when Poland regained its independence 123 years after it was divided between Russia, Prussia and the Austrian Empire.