Bristol policeman seriously injured in roof fall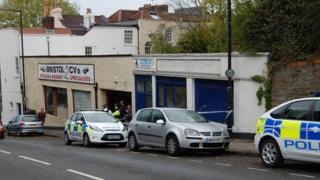 A police officer suffered serious head injuries after falling through a garage roof in Bristol during a search for a man who was seen acting suspiciously.
PC Christopher Hardaway, 26, climbed on to the garage in Hampton Road in Cotham after spotting a man on the roof during a patrol early on Friday.
He was taken to Frenchay Hospital where he remains in a critical condition.
The police helicopter was called in to help with the search but no arrests were made.
Chief Constable Nick Gargan tweeted: "Everyone's thoughts here, today, are with PC Chris Hardaway - seriously injured overnight, doing his job."
Assistant Chief Constable Anthony Bangham said: "We are proud of Christopher, who is typical of the enthusiastic men and women who police in Avon and Somerset, patrolling the area with courage and integrity, making people feel safe in their homes.
"Christopher was seriously injured and is undergoing surgery and our thoughts are with him and his family at this time, as they would be for any other officer injured carrying out actions to protect their local community."
Avon and Somerset Police urged anyone who witnessed the incident to contact them.