M4 hard shoulder to be tested as extra lane near Bristol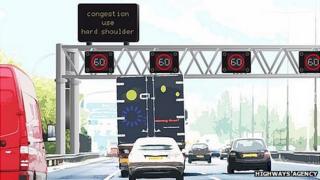 The hard shoulder on a busy stretch of the M4 near Bristol is to be opened up to traffic in a bid to ease congestion.
The section between junctions 19 and 20 is due to be trialled as an extra lane during off-peak times from Tuesday.
Overhead gantry signs controlled by the Highways Agency in Avonmouth will tell drivers when the hard shoulder is open.
If the three-week trial is successful, the system will become "fully operational" during busy periods from the end of the month.
The £88m scheme, which is also being tested on the M5 between junctions 15 and 17 in December, is the first "managed motorway" system in the South West.
Work has been going on to install the system on both motorways, which cross over north of Bristol, since January 2012.
Once up and running it will "cut congestion, make journey times more reliable and improve safety", a Highways Agency spokesman said.
"We urge road users to follow the overhead signs," said Adrian Hull, from the Highways Agency.
He added the "hard shoulder can only be legally used by motorists as a running lane when a speed limit is displayed above it - otherwise it is for emergency purposes only".
Similar "managed motorway" schemes have already been introduced on other roads, including the M42 in the West Midlands and a section of the M1 in Bedfordshire.