Bristol bus fares: New charges structure introduced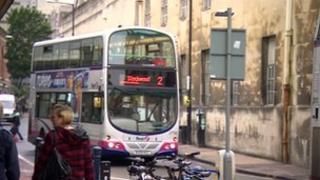 A new fares structure on many of Bristol's buses operated by First has come into operation.
It follows a campaign started by graphic designer Daniel Farr, 33, who called on the company to cut its fares and improve the service.
Two new zones - an inner (up to six miles from the city centre) and outer (six to 12 miles) are introduced.
Children aged five to 16 will get half-price fares on all single tickets within the inner zone.
Those aged between 16 and 21 will get a 30% discount on all single tickets within the inner zone - whether they are students or not.
There will also be cheaper prices for people travelling shorter distances, allowing passengers to travel for up to three miles for £1.50 and £2.50 for a journey of between three and six miles.
The new distance-related tickets relate to the distance the bus travels - rather than as the crow flies - and are only valid on one bus.
First said the new fares structure offered "greater transparency" for its customers.
The company has also introduced a number of changes to bus services in Bristol and North Somerset.
A full list of the changes can be found on First's website.