Bristol City Council sets out 'affordable' homes plan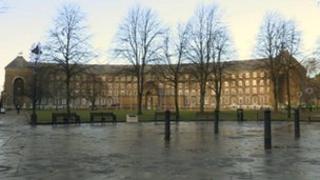 Plans for up to 2,500 "affordable" homes in Bristol by 2018 have been given the go ahead by the city council.
A report considered by the mayor said it was "imperative" the production levels of such homes were raised to address the housing crisis in the city.
It said any failure to do this would act as a brake on the city's economic development and jobs creation.
The council also approved the framework for it to become a significant provider of homes for the first time since 1979.
Target 'not met'
City mayor, George Ferguson said one of his key ambitions he set himself when elected was to achieve 1,000 new homes a year by 2016.
But last month he admitted that target would not be met.
"It is vital that we build more housing of all categories in order to help meet the pressing need and to ensure that the city can continue to grow its economy and expand job creation.
"Changes introduced by the government mean that Bristol City Council now keeps the money generated by council rents instead of sending it on to Whitehall - money that we can now invest in building new affordable city homes," he added.
Previously the council had used section 106 money [cash from developers] to provide the majority of its housing stock.
More than 14,000 people are on Bristol City Council's waiting list for council accommodation.