Bristol Cathedral evensong service marks 20 years of girl choristers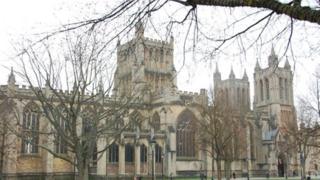 A service has taken place at Bristol Cathedral to celebrate 20 years since girls started singing in the cathedral choir.
It now has 28 choristers, equally split between the sexes, and all members are taught at Bristol Cathedral Choir School.
Mark Lee, director of music, said the change was a controversial decision at the time.
Previous choir members were also invited to Saturday's event.
'Voluntary group'
"Bristol was the first cathedral to ordain women so there is something of a precedent at Bristol I think for the move to equality, long overdue in my opinion," Mr Lee said.
"Canon John Simpson, who was in charge of music at the time, and the dean were very keen we should provide an opportunity for the girls to sing.
"So we started off with a voluntary group of about 20 older girls than the ones we now have as choristers - and they sang as a separate group.
"Then when the school became co-educational that was an opportunity to have girls as full cathedral choristers.
"Girls and boys are now equal, sing exactly the same number of services, the musical expectations are the same, and their singing is exactly on a level," he added.
Last month Canterbury Cathedral formed its first girls' choir after almost a millennium of male-only singing.