Bristol mayor considers payday loan advert ban on council property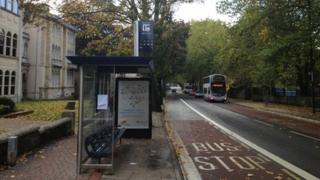 A council is looking to ban advertising for payday loans from bus stops, pay-and-display tickets and 41 billboard sites owned by the local authority.
Bristol's mayor George Ferguson said it was important the city "took a stance" on the issue.
He said for assets owned by the council it could write clauses into contracts stopping "unethical advertising".
But the Consumer Finance Association (CFA) said the move could stop the public accessing "responsible" lenders.
Rhiannon Thompson from the CFA, which aims to set standards for the payday loan industry, said it welcomed Bristol City Council's initiatives to drive out "irresponsible" lenders.
She said association members "clearly explain" the cost up-front in pounds and pence to potential customers.
"People like the product and more than 80% pay back in full on time and use it very responsibly.
"The average cost of one our loans is £25 per £100 borrowed.
"People need access to credit the right way. Censorship is only going to drive people into different forms of credit," she added.
Labour councillor Helen Holland is campaigning for the mayor to take action.
'Huge debts'
She also wants the council to block access to payday lenders' websites from council computers - for example in public libraries.
But Ms Holland said she was disappointed the mayor had asked for more time to consider whether the idea amounted to censorship.
"I think, against the worry about censorship, let's worry about people who are very vulnerable who are running up huge debts they can't then manage," she said.
"We've all heard those examples on consumer programmes and they are very real," she added.
Mr Ferguson said the council had to make judgements on the matter but said he did not want to promise anything he could not deliver.
"As far as our own contracts are concerned when they come up we are able to write clauses in it that protect us from finding that on our property we've got unethical advertising.
"What I hope we can do is influence other advertisers into recognising that Bristol doesn't welcome this.
"It makes me very angry when I see services being advertised you know are ripping-off the public."