Bristol taxi fares: mayor agrees to increase most fares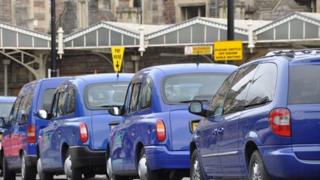 The cost of an "average" three mile taxi journey made during the day within Bristol is to rise by 8% from next month.
But the cost of many other trips will rise sharply - particularly night rates at the weekend, on public holidays and over the Christmas and New Year period.
Mayor George Ferguson approved the increase in rates despite opposition from two councillors.
He argued the rise was necessary to help drivers with increased costs.
"In the end I've to take a decision - we've negotiated these fares after a long period so it's delayed the increase.
"We've negotiated them to well under half of what the original request was in terms of inflation level.
"Cab drivers have to make a living... they are having to deal with a real inflation level somewhat higher than that because of fuel and other costs," he added.
Councillors Mark Bradshaw (Labour) and Gus Hoyt (Green) were against the rise.
Mr Hoyt acknowledged fuel costs had gone up but said so had food and energy.
He said: "It is above inflation the rise, the general cost of travel. We've just see train fares go up by about 10%, it's really hit people where it hurts.
"Obviously I'm a walker by choice but sometimes there's no option but to take a taxi."
Hackney Carriage fares within the city boundary are set by the mayor and must be charged using a taxi meter.
Outside the boundary the driver does not have to use the meter and fares can be negotiated.
The last time the fares were reviewed was in February 2011.
The new rates do not affect private hire vehicles which have to be pre-booked and can not be flagged down on the streets.