Medway Queen the 'heroine of Dunkirk' restored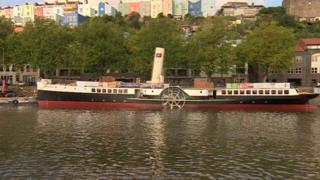 A ship that helped rescue thousands of soldiers during the Dunkirk evacuations of World War II has left Bristol Docks after being restored.
The Medway Queen paddle steamer, built in 1924, originally took holidaymakers on trips around Kent before being commissioned by the Navy, in 1939.
The boat became known as the "Heroine of Dunkirk" in 1940, after helping to evacuate British troops from Normandy.
It was then was left to rot before being rebuilt at Albion Dockyard.
The vessel will initially be towed to Cornwall and then to Kent, before going on public display.
Traditional construction
The Medway Queen, one of the most famous "little ships" of WWII, took more than 7,000 trapped men from beaches in 1940.
A campaign to save the boat, supported by veterans, was fought for more than 30 years.
Restoration work on its hull began in Bristol in 2011, with money from a £1.86m Heritage Lottery Grant.
It has been constructed in the traditional way - with rivets - and the project has taken two years.
It was the first ship of its size to be built this way in the UK in more than 50 years.
In March 2012, the government said administrative errors had led to the suspension of EU funding - it was restored by the European Commission a month later.