'Deplorably dirty' Bristol meat supplier avoids jail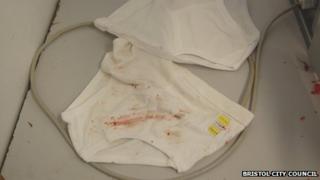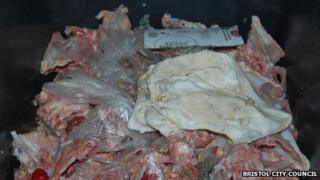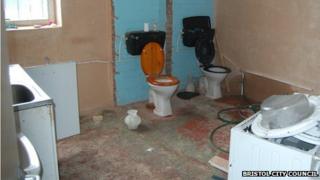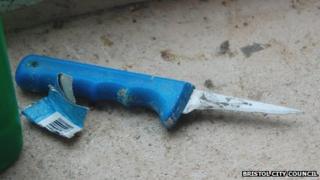 A man who supplied raw chicken from a "filthy" illegal meat processing plant in Bristol has avoided a jail term.
Kamran Ajaib, 28, used underpants to clean his makeshift butchery, which had no washbasins by work areas and no knife steriliser.
Sixty businesses around Bristol and as far away as west Wales, Gloucestershire and Wiltshire were being served by his company, Hamza Poultry.
Ajaib was given a 12-month suspended sentence and told to pay back £51,703.
The married father of two had admitted breaching eight counts of food hygiene regulations at his unit in Maggs Lane, Fishponds.
'Wholly unsanitary conditions'
Environmental health officers were first alerted when a customer at a Bristol takeaway found a piece of wire in their fried chicken.
They traced it back to Ajaib, whose home address is in Bradford, West Yorkshire, and carried out a raid at the meat plant where clean underpants were being used as cleaning cloths.
Dirty knives and equipment were also discovered, with toilets and no washing facilities near food preparation areas.
Four tonnes of chicken and beef found at the premises were later destroyed.
On sentencing, judge Michael Roach said it was obvious to see from photographic evidence that chicken was being processed in "wholly unsanitary conditions".
He described the premises as "deplorably dirty" and "not fit for meat production, cutting or otherwise".
'Absolutely disgusting'
The court heard Hamza Poultry had a turnover of more than £2m but Ajaib's available assets were £51,703, which must be paid back within six months.
The company is now in liquidation.
John Barrow, an environmental health officer for Bristol City Council, said: "His premises were filthy, absolutely disgusting, and so the risk of contamination for the chicken was really very high."
Ajaib had been buying in chicken from reputable suppliers, stripping it off the bone and dicing it, and then putting it back into the original supplier's boxes, according to the authority.
Mr Barrow said: "The chicken was being repacked into boxes which were using the health mark of the original company from which it had been bought, because he himself did not have a registration or an approval, and would never have got one with the premises in that condition.
"We found there was roughly an oval distribution, from Carmarthen in west Wales along the M4 corridor up to Merthyr Tydfil, Newport, the Forest of Dean, Stroud, Gloucester, the whole of Bristol and suburbs in Bath and North East Somerset and South Gloucestershire, along to Swindon and Chippenham."