Bristol mayor George Ferguson examines Triangle pedestrian idea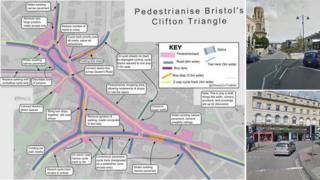 Plans to pedestrianise part of the Clifton Triangle area of Bristol have been described by the city's mayor as "very attractive"
The idea, proposed in the Wheels on the bike blog, suggests by "bending over backwards" to accommodate large numbers of vehicles it compromised other users.
Under the plan, through-traffic would use the south side of The Triangle.
Mayor George Ferguson said he suspected the idea "would be a challenge" in terms of traffic flow.
He tweeted: "This is an old idea - I remember it being proposed in the 80s - and a very attractive one @WheelsOnTheBike I'll ask traffic team to report."
Bristol City Council said while it can see the merits of the cycling campaigner's proposal it would have to consider what impact it would have on other road users in the area.
"This is a very vibrant and busy part of the city, so we would need to ensure that any changes introduced have positive benefits overall," a council spokesman said.
The Clifton Triangle is the start and finish point for five main roads in the city, while being home to bus stops, a taxi rank, a university building, and a large number of shops, offices and businesses.