Bristol dance therapy rehab group faces closure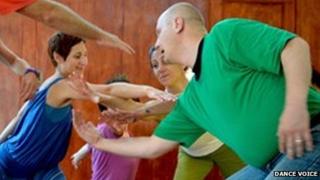 A rehab service which uses dance therapy to help people with drug and alcohol problems in Bristol could close due to funding cuts.
Dance Voice needs £4,000 before February to preserve its dance movement psychotherapy group, which has been running for the past 12 years.
Pam Fisher, from Dance Voice, said it was an alternative to talking therapies and some users called it a "lifeline".
The therapy uses dance to help improve mental and physical wellbeing.
Ms Fisher said the Addiction Recovery Agency (ARA) was no longer able to fund the project.
'Staying well'
She added that the weekly daytime sessions had been "one of our very successful groups" despite some initial cynicism from some of the clients.
Ms Fisher said: "People who have attended say it has been a lifeline, one of the most useful parts of their recovery journey and has helped them to stay well and positive."
One of the group's former clients, Greg, said attending the group had been "very positive".
He had moved on from a life of "self-medicating" with alcohol and drugs to studying for a university degree.
He said: "Sometimes, when I leave the sessions, I am left with upsetting feelings, sometimes happy ones, but every time I leave, I know I've changed. I've re-connected."
Dance Voice is a charity based in south Bristol and works with people of all ages and with a wide range of needs.