Avon and Somerset PCC accused over 'privatisation'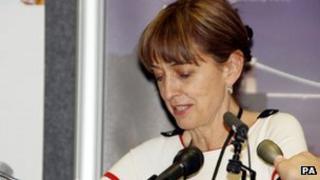 Avon and Somerset's PCC has been accused, by former rival PCC candidates, of allowing plans for some police services to be privatised.
Labour's John Savage and the Lib Dem's Pete Levy have condemned a "steady march towards privatisation".
Chief Constable Nick Gargan said in August custody suites, prisoner transport and identification services may be run by a private firm in future.
PCC Sue Mountstevens said a decision on services would not be made until 2014.
In a joint statement Mr Savage and Mr Levy said the chief constable's plan to privatise police custody suites "has not been scrutinised or challenged by the current police and crime commissioner".
Mr Levy said: "The chief constable has described custody suites as 'support' services. In our view nothing could be further from the truth.
"It is a frontline service where the police service is at most risk and under most scrutiny if something goes wrong."
The statement also said there was concern over "the political closeness" of Nick Gargan and Sue Mountstevens.
"Close working is essential for both jobs to work, but it must never be forgotten that the police and crime commissioner's job is to use her democratic mandate and express the public's concerns with policing and political decisions within the service," said Mr Savage.
"It's the chief constable's job to make operational decisions and it's the police commissioner's job to inform them politically and scrutinise the service.
"Not the other way around."
In response Ms Mountstevens said "I have been clear that I do not want to see core policing roles privatised.
"In January I will make a decision on either an in-house option or a business partnership model."
She said the decision would be based on "the evidence of the business cases taking into consideration the quality of service and value for money", and would also include the views of the public and the police.
She said she had visited two of the eight other forces that already use the private sector to "deliver police custody support services".
"I cannot forget the savings required by central government and if the constabulary can find ways to save in support services, clearly it will reduce the impact on the frontline," she said.
Gargan said the joint statement was a "disappointing distraction from the business of running a large and complex police force".
"I would have preferred them to raise their concerns with me first," he said.
"I would have been very happy to demonstrate that any potential private sector contract will be about blankets, bedding and breakfasts for detained people, not vital operational decisions on charging and detention which remain with the police."
Mr Gargan added that he was "proud" to have a good working relationship with the PCC.
"I will endeavour to work closely with any PCC that our communities elect because for policing to be effective, chief constables and police and crime commissioners need to work collaboratively together," he said.
Independent candidate Sue Mountstevens became PCC for Avon and Somerset in November 2012 after winning the public ballot.