Great crested newts could delay new Sainsbury's for Portishead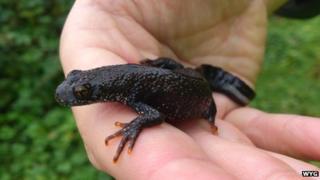 A colony of protected newts needs to be moved before work can start on building a new supermarket near Bristol.
The discovery of great crested newts at a pond on the site near Wyndham Way in Portishead could delay Sainsbury's plans to develop the new store.
The amphibians are protected under UK and EU law and have to be moved before construction can begin.
If they are not caught before the frost comes, then work could not start until spring at the earliest.
Environmental consultancy WYG was employed by Sainsbury's to survey the development site as part of the routine planning process.
They found a small number of great crested newts next to a nearby pond so applied for a licence from Natural England to be able to handle the protected species.
Chris Meddins, from WYG, said work to move the creatures began in September.
He said trapping could only take place during certain weather conditions and would have to stop once the temperature dropped below five degrees.
He said: "We're about half-way through the number of trapping days. We'll start up again in the spring if we don't get them all this season.
"We've got over 200 pitfall traps and quite a lot of fencing to keep them there."
He said so far they had caught about 15 great crested newts which had been moved to a "receptor site" nearby and which should "keep them safe during construction".
"They're a lot larger than other types of newts, they look like mini dragons. They have got something about them."
A Sainsbury's spokesman said: "Ecological surveys are an important part of preparing a site for construction work.
"We're hopeful that we can complete the relocation programme before the colder weather sets in.
"Once the relocation is complete we hope to be able to start work on a construction schedule and programme for the site."