Bristol babies whistleblower Steven Bolsin given college award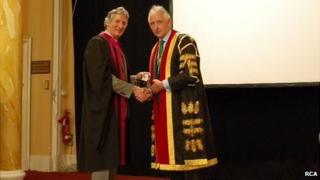 The doctor who exposed the Bristol baby heart scandal in the 1990s has been recognised for his patient safety work.
Prof Steven Bolsin received the Royal College of Anaesthetists (RCA) Medal for promoting safety in anaesthesia.
The then Dr Bolsin, a young anaesthetist, said he unhappy with mortality rates for paediatric cardiac surgery.
It eventually led to the Bristol Heart Inquiry, one of the biggest public inquiries in the history of the NHS.
The result of the inquiry called for surgeons to produce figures on mortality statistics, a process which is still being worked upon.
Prof Bolsin, who now lives in Australia, received his accolade at at a conference in Cardiff.
'Whistle-blowers punished'
He returned to the UK to deliver the RCA's Frederick Hewitt lecture about how the culture of medicine can be changed to make medics think more about patient safety.
He said: "Events like today - where the Royal College has acknowledged the good things that happened behind my actions in Bristol - will help people to stand up and speak out when they need to.
"We've seen other whistleblowers punished in the same way as I was and essentially having to leave the country, which makes me sad.
"We should be doing much more about whistleblowing - it's about the attitudes and culture of the management of the NHS.
"If it doesn't change then patient safety won't improve," he added.
The scandal was first made public by the BBC West current affairs programme Close Up West, in April 1995.