Bijan Ebrahimi murder: Steven Norley admits assisting offender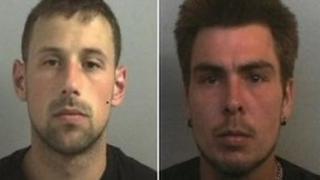 A second man has admitted his involvement in the death of a disabled man whose burnt body was found in Bristol.
Stephen Norley, 24, was originally charged with murder but that charge was dropped. He has now admitted assisting an offender at Bristol Crown Court.
Bijan Ebrahimi's body was found burning in Brislington in July.
Earlier this month Lee James, 24, from Capgrave Crescent, Bristol, admitted the Iranian man's murder.
Andrew Langdon, prosecuting, told the hearing that Norley, of Capgrave Crescent, had helped James drag Mr Ebrahimi's body away from the scene of the attack and had assisted in setting fire to his body by obtaining white spirit.
"Mr Norley's acceptance of guilt is a proportionate outcome in the light of Mr James's much more substantial role."
Michael Fitton, representing Norley, said: "The defendant is well aware he will be made the subject of an immediate prison sentence."
Six police officers are under investigation for gross misconduct following the death of Mr Ebrahimi.
The Independent Police Complaints Commission (IPCC) said four constables, a sergeant and an inspector had been served with notices of gross misconduct.
'Unimaginable hatred'
The police watchdog said Mr Ebrahimi had been in contact with officers from the force in the days before his death.
He had been arrested on 12 July on suspicion of a breach of the peace and released later the same day.
In a statement, the family said in one "callous act of unimaginable hatred" its entire world had been taken.
"The convictions of Mr James and Mr Norley represent some measure of justice for Bijan.
"However, we are gravely concerned that the actions of those men may have been made possible by the failures of the police and others to protect Bijan.
"Until those responsible for any failures are held to account, justice will not have been done, and others in Bijan's position will continue to be at risk.
In a statement, Avon and Somerset Police said it took all suggestions of "misconduct and poor behaviour" extremely seriously.
"We're working with the IPCC to support them in whatever way we can as they carry out their investigation.
"In the meantime, we hope Mr Ebrahimi's family can draw some comfort from the fact that the two men involved in his murder have pleaded guilty."