Shrien Dewani: Case against extradition will be reopened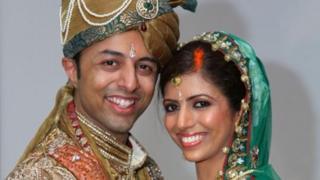 Honeymoon murder suspect Shrien Dewani has won the right to have an appeal against his extradition to South Africa reopened at the High Court in London.
It is the latest move by the 33-year-old Bristol businessman to halt his removal from the UK to face trial over his wife's death.
Mr Dewani is accused of plotting to kill 28-year-old Anni Dewani, who was shot in Cape Town in November 2010.
The High Court will hear the appeal as soon as possible.
The extradition was first ordered by a senior district judge in 2011.
'Hard to understand'
It was appealed to the High Court in 2012, where it was sent back to the district judge.
In July, Mr Dewani's extradition was ordered once again.
The Lord Chief Justice Lord Thomas has now said that the original appeal will be reopened to consider two questions:
Is a person who is currently unfit to plead 'an accused' under the Extradition Act 2003, if he is being extradited in circumstances where he may remain unfit to plead?
Is it unjust or oppressive to extradite a person who it is agreed is unfit, whatever the prognosis? In answering that question, are the procedures in the requesting state in relation to fitness to plead relevant?
Speaking outside the court, Anni Dewani's mother Nilam Hindocha said it was "nearly three years since she was killed and we have kept our dignity and respect throughout".
"I was brought up to believe British justice is the best in the world, so it is very hard to understand why we are still here.
"I am the mother of a murdered daughter. How long do I have to wait?"
Anni Dewani's sister, Ami Denborg said: "We've been waiting three years and we don't understand why there are so many delays.
"We want Shrien to go to South Africa - it's taking a toll on us.
"It's hard for us to move on with our lives.. It doesn't help anyone for him not to answer questions."
Mr Dewani's family left court without making a statement.
'Appropriate protections'
Mr Dewani is suspected of ordering the killing of his new wife as they drove through the Gugulethu township in a taxi.
The pair were kidnapped at gunpoint.
Mr Dewani was released unharmed, but the next day the body of Mrs Dewani was found on the back seat of the car in Lingelethu West, with injuries to her head and chest.
Last year, South African Xolile Mngeni was convicted of premeditated murder and jailed for life. Prosecutors claimed he was a hitman hired by Mr Dewani to kill his wife, something that Mr Dewani has always denied.
The couple's taxi driver Zola Tongo was jailed for 18 years after he admitted his part in the killing and another accomplice, Mziwamadoda Qwabe, also pleaded guilty to murder and was handed 25 years in prison.
Mr Dewani's family have said that he remains committed to returning to South Africa "when his health would permit a full trial and when appropriate protections are in place for his health and safety".