Bristol hosts last car-free Sunday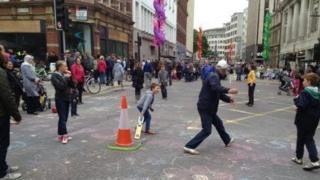 The last of Bristol's car-free Sunday events is taking place.
The Make Sunday Special initiative was introduced by the city's mayor, George Ferguson, to encourage people to come into the city centre.
Baldwin Street, King Street and Corn Street are among the roads which are closed to traffic.
The first car-free Sunday took place in June and the council said it would now review whether to bring it back next year.
It said the five monthly events - that saw the relevant roads closed between 09:00 and 18:00 BST - had cost a total of £195,000.
Artists, dancers and musicians have performed in the street and some people have even brought sofas to sit on in the middle of the road.
The council said feedback, based on exit surveys of about 100 people a month, showed most people had enjoyed the events.
Some local traders had complained, however.
Mr Ferguson said: " I am hoping that next year, following this very positive experience, local businesses will sponsor music, performance, play and sporting activity as their contribution to increasingly popular events."
People are still able to drive into the city along routes to the main car parks - and provision has been made for disabled drivers, with public transport being largely unaffected.