Bristol Arena: £27m shortfall bid supported by councils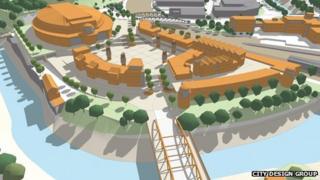 A bid to solve a £27m funding shortfall for the Bristol Arena has been given a major boost by neighbouring councils.
City mayor George Ferguson previously requested support for a bid to cover the gap in the £90m proposal.
North Somerset, South Gloucestershire and Bath and North East Somerset have said they will support the request for the money.
A bid for the money will be made to the West's Local Enterprise Partnership (LEP) board in December.
Of the 11 board members, eight have voting power and half of those represent the four councils in the region.
Chair of the LEP, Colin Skellett, said: "The City Deal always included the money to do the public investment in the arena and that hasn't changed.
"Some of the numbers have changed and there's a discussion going on at the moment but I'm quite sure we'll get there."
The LEP has already agreed to grant £25m of funding towards the project to build the 12,000-capacity arena after the government rejected a £40m bid earlier in the year.
'Shared benefits'
North Somerset Council's leader and LEP board member councillor Nigel Ashton said Bristol was "free to bid to for additional funding".
"Any scheme will be assessed and, if approved, added to those already agreed.
"We have a number of priority schemes already but we all support Bristol's ambition to build an arena."
The arena is part of the city's plan to regenerate about 70 hectares (170 acres) of land surrounding Bristol Temple Meads station.
Deputy mayor Geoff Gollop said he was "encouraged by the friendly response by our neighbouring authorities".
He added that all four areas would "share the benefit of the wider economic impact of an arena, as well as having access to the biggest top flight bands and events currently denied us".