Council vote means Highwood Road will stay closed to cars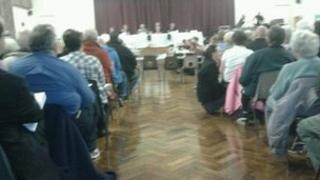 A South Gloucestershire road at the centre of a dispute between councillors and residents will stay closed to cars permanently, following a council vote.
About 2,000 people signed a petition calling for an end to an experimental traffic order which created a two-way bus lane on Highwood Road in Patchway.
Some residents said they felt "completely ignored" after the plan was voted through at the community college.
But South Gloucestershire Council said the scheme was "pioneering".
'Make life easier'
It said the bus route was a "crucial element" in its £102m MetroBus scheme, part of the Greater Bristol Bus Network plan.
But residents claim that closure has turned nearby Coniston Road into a rat-run.
"I understand they're hurt," said transport spokesman and Conservative councillor Brian Allinson, whose party voted the plan through with the Liberal Democrats.
"Now that we've taken the decision for the greater part of South Gloucestershire, we must do everything we can to make sure that their concerns are addressed."
Many residents heckled and jeered the councillors during the meeting, which was attended by about 500 people. They say the road closure has divided their community and left them stranded.
'Keep the peace'
Carol Richardson, a Patchway resident who spoke at the event, told the BBC she felt "pretty disgusted" at the outcome.
"I think the majority of the councillors don't live in Patchway," she said. "I just got the impression that we were completely ignored."
BBC Bristol's political reporter Robin Markwell, who attended, said an attempt to hold the meeting in a smaller venue last month had to be abandoned for fear of overcrowding.
South Gloucestershire Council said it would link the communities of Patchway and Charlton Hayes via a car free 'linear park' featuring new trees, play areas and cycle and walking routes.
The approved plans would see the northern carriageway of Highwood Road permanently downgraded to a speed-restricted bus and taxi-only route.
The southern half of the carriageway will be closed entirely. The scheme is being funded by a new housing development at Charlton Hayes.