Highwood Road closure council vote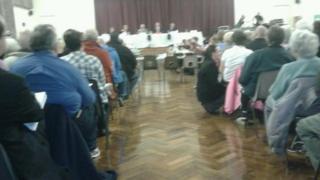 More than 500 people who are upset about plans to ban cars from a road in north Bristol have attended a council meeting voting on a permanent closure.
Highwood Road in Patchway has been trialled as a bus and cycle route since last year in a bid to reduce congestion and let buses run more freely.
More than 800 people signed a petition against South Gloucestershire's plans to close the dual carriageway to cars.
The council will vote on whether to shut the road to cars for good.
A council meeting about the issue in September had to be postponed after more than 200 protesters turned up.
The vote was rescheduled and a larger venue chosen, as the council wanted "all those who wished to attend, and make representations, to be able to do so".
The petition had called for an end to the experimental traffic order which created the two-way bus lane.
Some local residents claimed it caused jams on nearby roads and they want the road to be converted back to a dual carriageway.
South Gloucestershire Council said the bus route was a "crucial element" in its £102m MetroBus scheme - part of the Greater Bristol Bus Network plan.