Bristol RPZ: 'Firm could be forced out'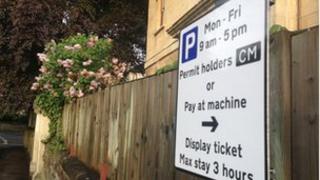 A firm in the Clifton area of Bristol could be forced to move out of the city if a planned residents' parking zone (RPZ) goes ahead, it is claimed.
Staff at Alder King property consultants in Pembroke Road, said the company had been allotted only seven parking spaces by Bristol City Council.
The RPZ for Clifton Village is due to be introduced in 2013 as part of a city-wide parking scheme.
The council said staff should be encouraged to use public transport.
Alder King's chairman, Grant Watson, said: "We can't quite see how we can operate practically if we are only allowed seven permits.
"At the moment our staff park in the streets and they don't have any difficulty in doing that."
The firm employs about 100 people and shares its premises with other businesses, which means a total of 250 people work in the building. There is on-site parking for 20 vehicles.
"Our employees have to come and go throughout the day because they have to service clients all across the city," added Mr Watson.
"We can continue to operate but we will need more than seven permits."
A spokesperson for Bristol City Council said its priority was "to ensure the limited road space is shared fairly for the use of customers of local businesses and local residents".
"This means businesses that take more than their fair share of local road space need to encourage their staff to travel by public transport.
"Data shows that many people travel to work by car from quite nearby, yet there is nowhere in Clifton that is more than 20 minutes' walk from a main bus route.
"Two-hundred cars parked on a residential street has a severe impact on local residents, who cannot park their own cars, or use them during the day."
The spokesperson added that people living in Clifton had asked for a residents' parking scheme to be introduced.