Affordable homes target in Bristol not met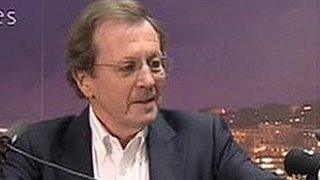 The mayor of Bristol has admitted his target for building affordable housing in the city will not be met.
When he was elected in November last year George Ferguson said he hoped to provide 1,000 new homes each year by 2016.
He said only about "40 or 50" houses would be built this year and gave a revised target of 600 homes by 2017.
Labour's housing spokesman said the situation in Bristol was getting worse, not better.
More than 14,000 people are on Bristol City Council's waiting list for affordable homes.
Mr Ferguson said: "It won't be achieved by the end of my first term. I was always very careful not to give specific figures.
"It looks as if we will only have built less than 60 affordable homes this year - maybe 40 or 50.
'Huge leap'
"I will see my way to multiplying that by a factor of 10 by 2017, but even that is a huge leap in the way we're currently doing things."
Assistant mayor Mark Bradshaw said "There were all sorts of targets during the mayoral campaign.
"What we've seen since 2010 is a sharp fall in the number of new homes being completed in the city."
He said there was potential to build about 500 homes in the city on sites that already had planning permission.
"Because of cuts to the way we fund affordable homes we are dependent on the private sector and housing associations," he added.
Independent George Ferguson become the first directly-elected mayor of Bristol in November 2012.
Labour housing spokesman Ron Stone said Mr Ferguson had "fallen woefully short on delivering much-needed homes for Bristolians".
"The mayor wants to lay the blame at everyone else's door, but nearly a year in Bristol's housing problem is getting worse, not better," he said.
Mr Stone said his party's solutions to the problem included re-using council-owned sites for small prefabricated developments, converting empty office blocks into homes and seeking ethical investment from pension funds for social and affordable housing.
'Trapped in hostels'
Paul Noblet, from youth homelessness charity Centrepoint, said: "The mayor is not alone in struggling to get new affordable homes built in the country's big cities.
"The reductions in social housing grants and the refusal to let councils borrow against their assets to build new council homes means local authorities are hugely dependent on developers and housing associations to cut housing waiting lists.
"Centrepoint and Cambridge University research found that across the country almost a million homes below market rents will need to be made available by 2021 to meet demand.
"If this massive shortfall is not addressed then more and more young people will be trapped in hostels, unable to live independently.
"Whilst building new homes is part of the solution, we also need to keep bringing empty homes back into use and making much better use of the private rented sector to house those in need."