Latest Bristol parking zones set for March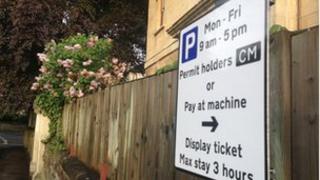 The latest parts of a residents' parking scheme in Bristol will come into force next March.
Mayor George Ferguson wants to implement a roll-out of parking zones within the next 18 months.
The latest areas to get the zones will be St Philips and Easton, where council officials said there was a problem with commuter parking.
Under the scheme, residents will be asked to pay £30 for the right to park one car outside their houses.
Free parking time for people without permits has been extended from 15 minutes to 30 minutes, Bristol City Council added.
The scheme has drawn criticism from some residents' groups and business who have complained about a lack of consultation.
Because of this, Mr Ferguson reduced the scale of his plan and put several areas - such as St Andrew's, Windmill Hill, Totterdown and Bishopston - on hold.
At present the residents' parking zone (RPZ) operates in Kingsdown, Cotham and central areas of the city.
In Easton and St Phillips, a council survey showed the 40% of daytime parking was by people who did not live in the area.