'Pup' Gromit statue pulled from eBay auction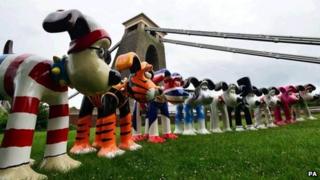 An investigation has been launched after a "pup" version of a charity Gromit statue was found for sale on an auction website.
The statue, which was not authorised for sale, was removed from eBay after the seller was contacted.
The half-sized Gromit was decorated by Bristol schoolchildren as part of a public art trail around the city.
Grand Appeal director Nicola Masters said they were looking into how the Gromit ended up with a private seller.
When the auction was suspended it had reached a price of £280.
Additionally, the charity said other items such as paint-your-own Gromit kits were also appearing for sale.
'Vastly-inflated' prices
"For people to be buying them privately on eBay is very disappointing," said Ms Masters.
"The whole Gromit Unleashed trail was to raise money for Bristol Children's Hospital.
"We can only assure people that you don't need to pay those vast vastly inflated prices that they're currently achieving on eBay."
Ms Masters said that the Grand Appeal would be selling more smaller Gromit figurines and appealed for people to buy those rather than from auction websites.
During the arts trail, schools had the chance to get involved in the project by decorating one of about 80 smaller Gromit statues.
Some of them were auctioned, with 50% of the profit going to the school and the other 50% going to the Grand Appeal, which supports Bristol Children's Hospital.
Other statues were kept by the schools.