Gromit Unleashed 'seen by more than one million people'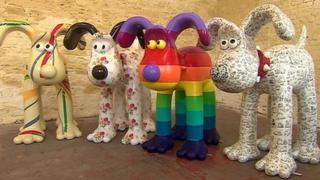 More than one million people visited this summer's Gromit Unleashed arts trail in Bristol, bringing more than £75m to the city, organisers have said.
Wallace and Gromit's Grand Appeal said 1.18 million people saw the sculptures, based on the famous Aardman animation.
The 81 5ft (1.5m) dogs were decorated by artists and celebrities, including Sir Quentin Blake and Jools Holland.
Aardman's chairman David Sproxton hopes to set up another project in 2015 involving Shaun the Sheep.
Mr Sproxton said everyone at the Bristol-based company had been "bowled over" by the way people responded to the sculptures.
'Astonishing figures'
"Gromit Unleashed is the most successful project we've ever done beyond what we're usually associated with.
"We keep being asked 'what's next?' and it's certainly going to be a challenge to top this.
"The project partners are keen to see if we can scale up the idea with Shaun the Sheep in 2015 and roll it out nationally - or even internationally."
Mr Sproxton said the project was at an exploratory stage but, with 2015 being the Chinese Year of the Sheep, it seemed like the "perfect time".
The Gromit sculptures, which each weighed about 90lb (40kg), were on show in and around the city from 1 July to 8 September.
They went to auction on 3 October, and raised over £2.3m for the Wallace and Gromit's Grand Appeal, the Bristol Children's Hospital Charity.
A total of 92 lots - which included an additional 11 3ft (1m) Gromits weighing 33lb (15kg) each - made up the fundraising total.
Pixar's Gromit Lightyear - based on the Toy Story character - was the star lot, reaching £65,000.
Nicola Masters, director of Wallace and Gromit's Grand Appeal, said: "The figures are astonishing but the economic impact is only part of the equation as the project has not only helped bring people to visit this wonderful city, but got Bristol people out to explore parts of the city they have never seen before."
The charity said the direct impact of the Gromit Unleashed project was more than £77m, which includes money spent on paid accommodation, travel, gifts and refreshments.
Just over half of the visitors were from Bristol, with 42% coming from around the UK and the remaining 2% from overseas, in particular North America, Europe and Australia.
Nearly 900,000 visitors came to the city specifically to see the sculptures, it is claimed.