PM backs calls to review Bristol tandem death sentence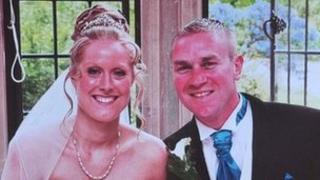 The prime minister has backed calls for the sentence of a disqualified driver who killed a Bristol couple in a hit and run to be reviewed.
Ross and Clare Simons were knocked off their tandem bike in January by Nicholas Lovell, who had four previous convictions for dangerous driving.
He admitted killing the couple and was jailed for 10 years and six months.
David Cameron said during Prime Minister's Questions the crime was "appalling" and could be reviewed.
Mr Simons, 34, and his 30-year-old wife died at the scene in Hanham.
Lovell, 38, lost his licence in 1999 and was being pursued by police when he hit the couple.
'Snuffed out'
At the time Lovell lost his licence he told his lawyer he feared he would either kill himself or someone else if he did not deal with his drug problem.
Lovell, of West Street, Oldland Common, was then convicted on 11 separate occasions of driving while disqualified. He was jailed for killing the couple in May.
Lovell's partner, Louise Cox, 35, was jailed for a year for perverting the course of justice.
Mr Cameron said, in response to a question from Kingswood MP Chris Skidmore, Lovell had "snuffed out" the lives of Ross and Clare Simons.
"The sentence was 10 years and as I understand it, the maximum sentence available for a crime like this is 14 years.
"I can also tell him that the justice secretary has asked the Sentencing Council to review the sentencing guidelines for serious driving offences.
"And I think we should look at this specific case in the light of that."
The parents of Ross and Clare Simons launched a campaign for Lovell's sentence to be reviewed in May.
Mr Simons' father Edwin Simons said: "What I heard today from the prime minister is very hopeful.
"Let's hope other people who might go through what we've gone through will get better justice."
Mr Simons' sister, Kelly Woodruff, said: "We feel we really didn't get justice. Nicholas Lovell should get a tougher sentence.
"He was given ten and a half years but we know he is not going to serve anywhere near that. Five years is just not justice for killing two people."