Bristol rat-run could be made one-way in council plan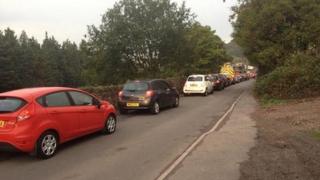 A narrow and "dangerous" rat-run in Bristol could be made one-way as an experiment for six months.
Crews Hole Road could become an inbound-only route with outbound traffic diverted via Beaufort Road.
Campaigner Phyll McVeigh said the road had become dangerous because it had "not been particularly looked after" over the past 40 years.
But Labour ward councillor Steve Pearce said the route was a "demolition derby" which had to be addressed.
Mr Pearce said "something needed to be done" as accident statistic "did not make pretty reading".
But Ms McVeigh said developments in the area had led to many of the current problems.
'Nobody consulted'
"Things were allowed to develop which really shouldn't have been developed," she said.
"But however, we have to live with what we've got and make the best of what we've got - but the way it's been approached, we think is totally unacceptable."
She added that if the changes are made the impact on businesses and local residents would be "horrendous".
The council said residents would have a chance to comment during the six-month trial.
It added in a statement that the trial between St George and Hanham could be made permanent "if it's successful".
"This will be an experimental order, which provides an opportunity for people who live on and use the road to comment on how it is working for six months while the scheme is operating.
"The plans will be advertised several weeks in advance and signs will go up around the area alerting residents and road users to the proposals."