Queen's Cup Balloon Race 2013 won by Richard Parry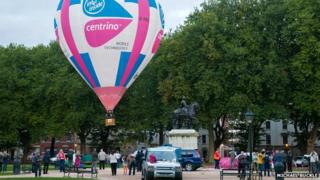 A hot-air balloon pilot has landed in Norfolk to win the UK's oldest sporting trophy.
Richard Parry, from Stroud, flew a total of 199 miles (321km) from Queen's Square in Bristol to a site near Great Yarmouth.
Thirteen teams set off on Saturday to compete in the Queen's Cup balloon race. Pilots had to be on the ground to finish the race by 16:00 BST on Sunday.
Mr Parry was presented with the Queen's Air Race Challenge Cup afterwards.
"This is a wonderful race which tests not only balloonist's long distance flying capabilities but also their tactical skill," said event director Don Cameron.
"Working out everything from air traffic, weather changes to refuelling and crew logistics it is, I suppose, similar to the Olympics but for hot-air balloon teams," he added.
The Queen's Cup, which is made of Irish silver, was donated by The Queen to The Royal Aero Club of the United Kingdom in 2010.
Since 2011, it has been awarded by the club to different air sport competitions.